Written by Emy McLeod | Published on 05 Apr 2023
---
A work hard, play hard mentality.  Many people who venture into a career in the outdoors see the picture-perfect lifestyle with amazing Instagram shots of climbing mountains, running rivers, riding trails and living in vans!  Some cases this is life, some cases it is not - it can be very tough!  But it is the life I choose and the life I love.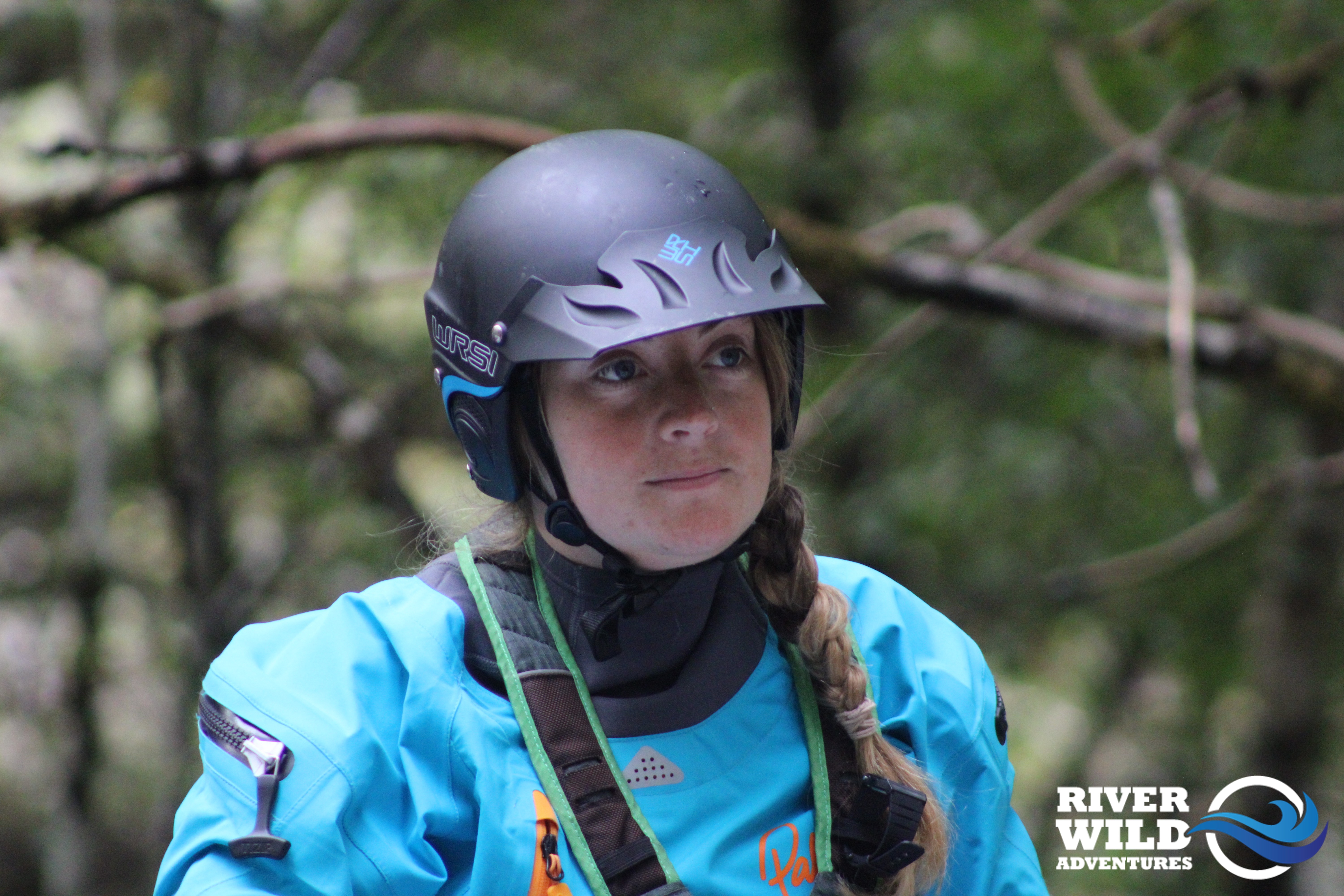 My outdoor career began with rafting. I had rafted a few rivers prior to going on the white-water guide training course but that week put grand ideas in my head: Canada for Kicking Horse, Upper Colorado and Tongariro over in NZ.  Unfortunately, those ideas did not become a reality (yet) as I pursued a career in coaching and guiding in canoe, white water SUP and biking, currently residing in Aviemore, Scottish Highlands.  However,…the love of white water rafting was reignited by signing onto a couple of training days with Bonnie from River Wild Adventures followed by an expedition trip to raft the mighty Karnali in Nepal.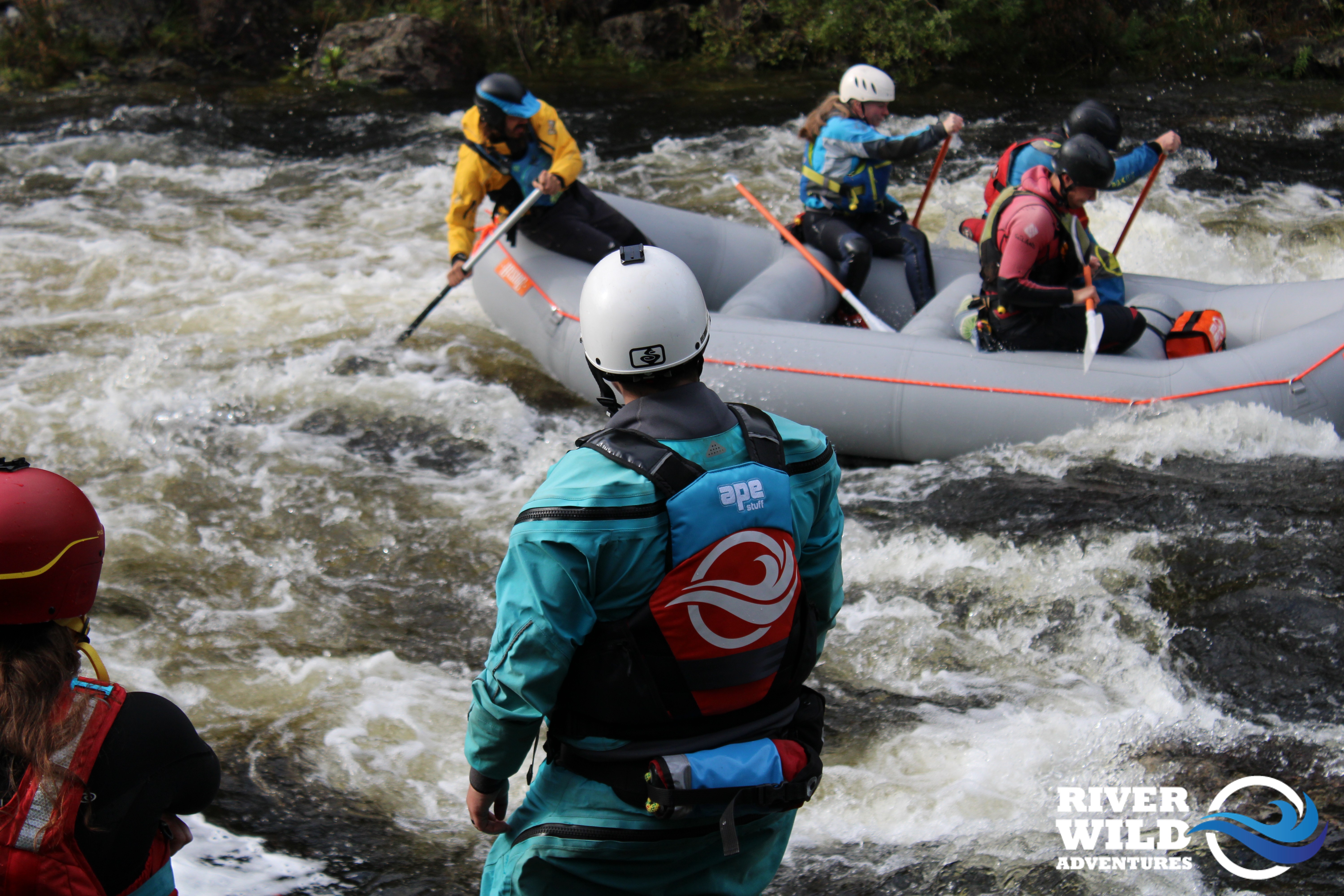 River Wild Training Days…
It didn't take long for me to fall back in love with rafting.  Having only rafted a handful of times over the past few years I was feeling pretty anxious about taking the stick on a bigger volume river.  There was no need to be anxious, from the get-go, River Wild Adventures set out in a relaxed and open environment where we had the challenge by choice mentality.  Of course, there was a lot of river banter, jokes, and high energy from everyone - all ingredients that a raft guide needs! 
First off, we focused on land based activities, covering safety briefings and looking at setting up various rescue scenarios involving pinned rafts.  This was a great session to discuss the various mechanical advantage setups; I found it really useful to discuss each set up and why it would be used - any system that enables the moving of a heavy boat with the least exertion is key.  This is certainly an area that I've identified that I want to become more proficient in - you could be the best river runner out there, but you must be capable of setting up a multitude of systems to cover any scenario.  There are updated techniques now in the guide training syllabus to when I first passed my guide certification; it is worth doing refresher days to ensure you are up to date with the latest systems, set ups and what your certification covers you to guide.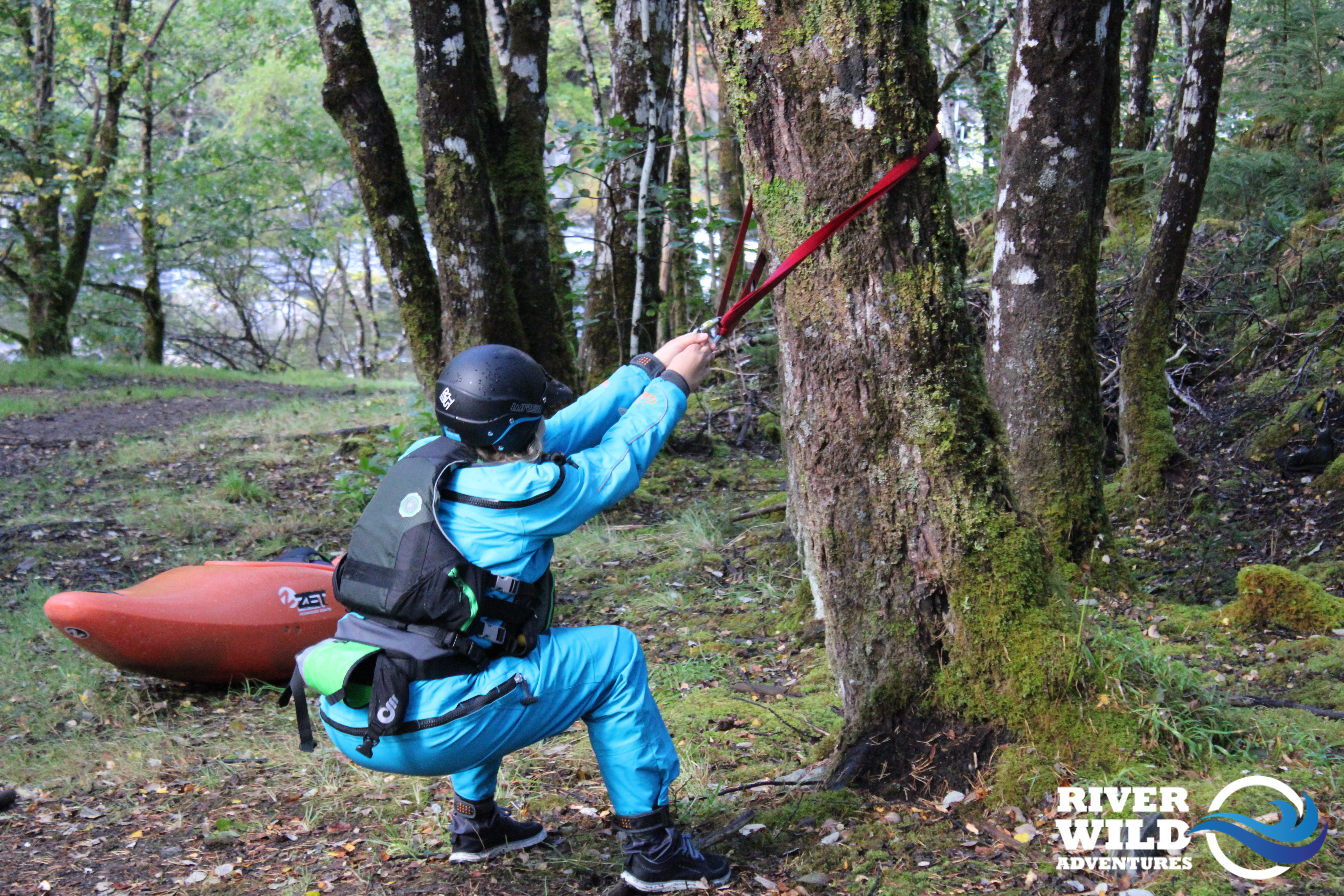 Moving to the water…
The Garry is a dam releasing river and a prime location for white water rafting!  It was the perfect choice for on the water training.  With two rafts on the water, we worked on our skills of line choice, catching eddy's and surfing!  Oh boy do I love a good surf!  Making your crew work and getting the angle right allows for the raft to find its sweet spot in the wave, hold it there and enjoy the ride!  Timing is key, knowing when and where to have your crew move to in the surf can make you hold the surf longer - this is usually a highlight for clients when on a commercial run.  We took turns to pick lines and surf, a great learning opportunity and a lot of fun was had!
Scouting one of the main rapids on the river opened up discussions of line choice - the fun and very wet lines versus the chicken shoot lines!  With clients, you have to read your crew, what is suitable and what is going to give the most enjoyment for them whilst having the confidence in your ability on stick in making your line.
I couldn't agree more; to improve your skills you have to get out there and run the rivers, these training days give you the opportunity to do so.  On river training days are so valuable and certainly a great opportunity to jump on to; you get the access to the rafts, professional training and come away with an action plan towards achieving the next level of certification in guiding and/or trip leading.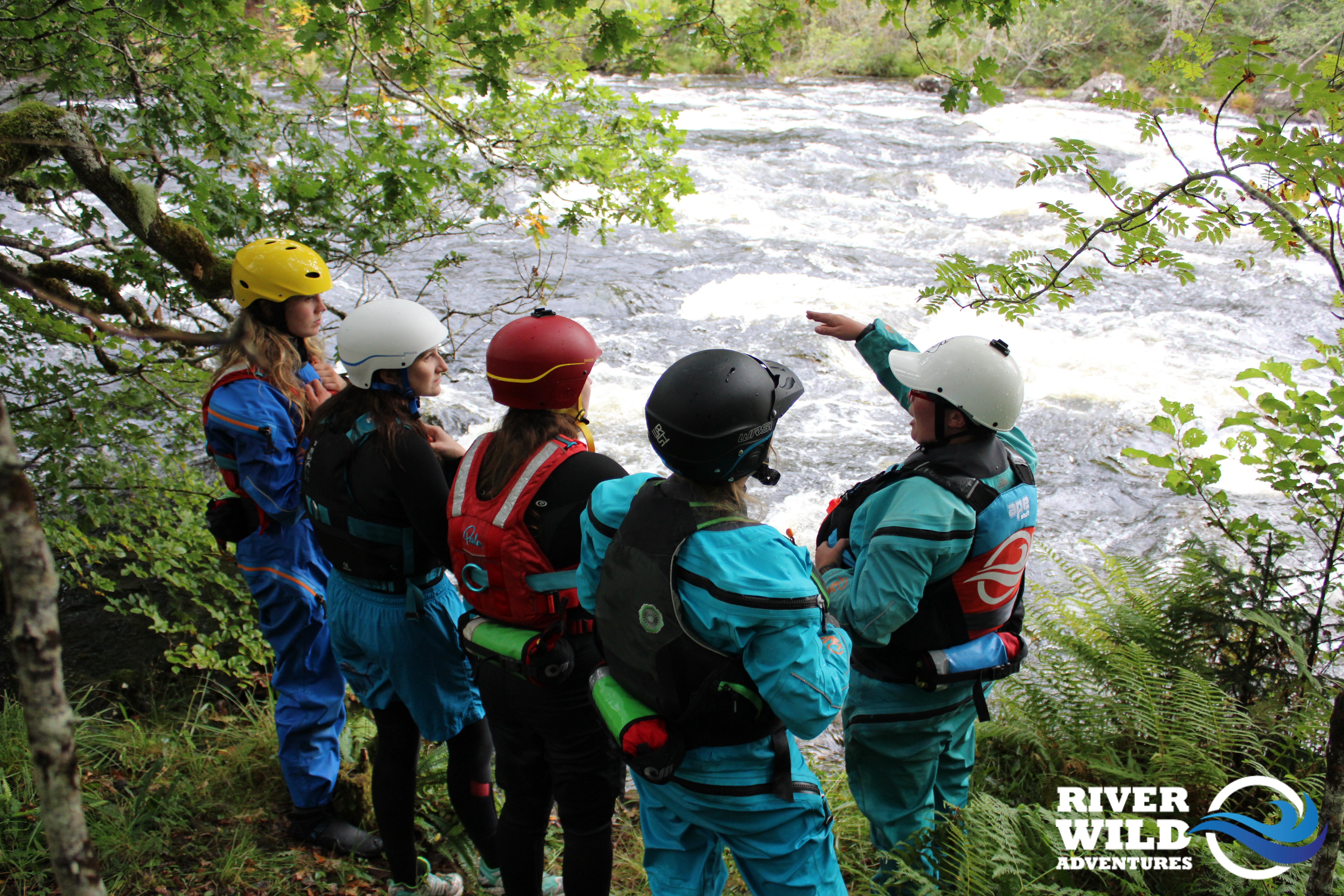 Flipping love it…or do I…. FLIP DRILLS!
Flipping a raft…sometimes not everything goes according to plan.  If I flip…, can I re-flip?  What better way to ensure this is proficiency than to jump right in - quite literally!  River Wild runs flip drill training days.  Turning up with a can-do attitude and a very good drysuit, I was prepared for a day of getting very wet.  Being a small individual, I found that technique was key for me, some raft guides can get away with brute strength and find flipping a piece of cake, I however struggle and I have no shame to admit that.  Flipping a raft with a time limit is very doable, for me the technique is essential.  Bonnie demonstrated methods to re-flip and climb back into the raft using aids; some of which were new to me and after a few tries I definitely found my technique improving.  The way the raft is outfitted can also aid you in climbing back in - always something worth checking on the boat before you head out on a trip.  This is a day I recommend to anyone who is thinking about or who is already qualified as a raft guide as we as guides sometimes become too at ease with running the rivers and we do not always practice the flip drills!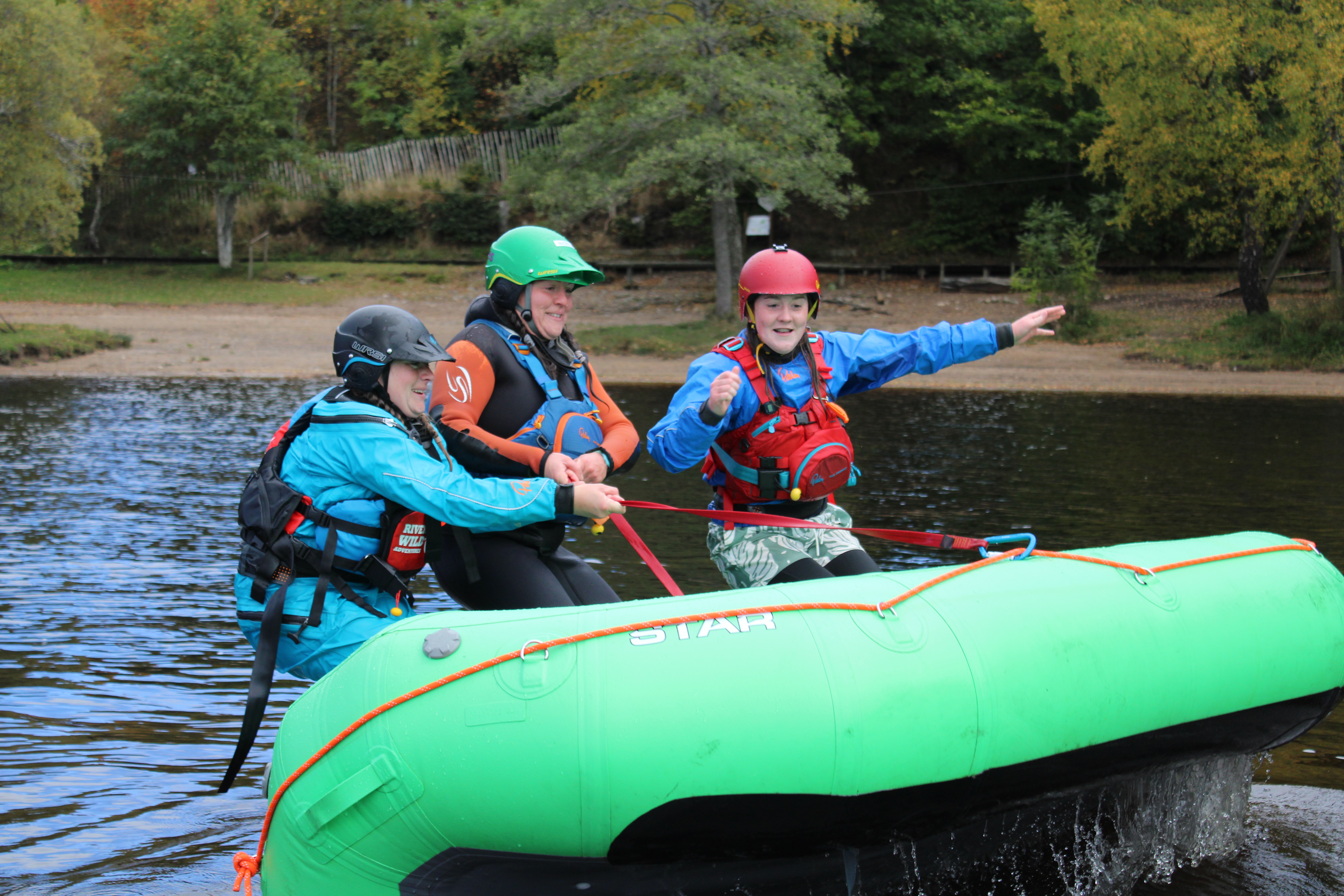 So Why River Wild Adventures?…
Learning new and developing current skills with Bonnie & River Wild Adventures was great, there was no pressure to nail every line, get your surf and it was okay to miss an eddy - it was training.  I came out of the days on the river and the flip drill training feeling so much more confident in myself and in my river running skills.  Being the only lefty on stick and nailing my surfing on a wave that clearly benefits a righty was a highlight!  Dropping in and holding the surf was awesome!  My lines got better, I was catching more eddy's and most of all I was loving it!  The training atmosphere that Bonnie created was so important to the success of the days.  A relaxed but professional attitude; she clearly knows her stuff when it comes to rafting.  It was really impressive to see a female raft guide in her element on the water.  More so is it inspiring to have a raft business established by a female guide that offers not only great rafting experiences but also has the passion to develop and train individuals looking to progress their skill on the river.  River Wild Adventures are creating a network of raft guides and trainees to come together, run new rivers, upskill, and challenge themselves in harder environments with the support from other qualified guides.  The day on the Garry was just what I needed to reignite my love and thrill of rafting.  I feel at home on the water, always have done, give respect to the water; the adventures and people you meet along the way are priceless.  I look forward to what 2023 has to bring…