The Best Season to Go Rafting in Scotland
Written by Jen McGhie-Convery | Published on 11 May 2022
---
What time of year is best to go white water rafting in Scotland?
So you're thinking about embarking on a Scottish white water rafting adventure? That's brilliant! If you like seeing the world from a different perspective, having some fun and a little physical activity then white water rafting is a great choice. However, it can be tricky to decide when to venture out onto the water.
We all know that Scotland's weather can be unpredictable at any time of year so there definitely a strong case for just going when you're free and having a great time! However, if you'd like a little bit more information of what to expect, here are some thoughts:
Summer
Summer is definitely appealing for most people. The temperatures are a bit warmer, the sun is more likely to be shining and we might find ourselves inclined to take some time away from normal life. Scotland is a beautiful country to visit, with incredible scenery and history and plenty of rivers to choose from. Whilst it doesn't have the best reputation for weather, it does get (somewhat) sunny in the summer, the temperatures are (somewhat) higher and there is (somewhat) less rain. That all might be sounding like the perfect conditions for your Scottish white water rafting adventure but there is one important thing to consider: what river are you headed for?
Nicer weather usually means notably less rainfall. Less rainfall means less water in the rivers. Less water in the rivers means goodbye white water thrills and hello scraping over rocks and slow moving currents. With any natural river in Scotland, be prepared that the water levels are likely to be very low during the summer. You'll still have fun but it might not be the thrilling adventure you were hoping for. Instead, the rapids will likely be subsidised by games and challenges to keep you entertained.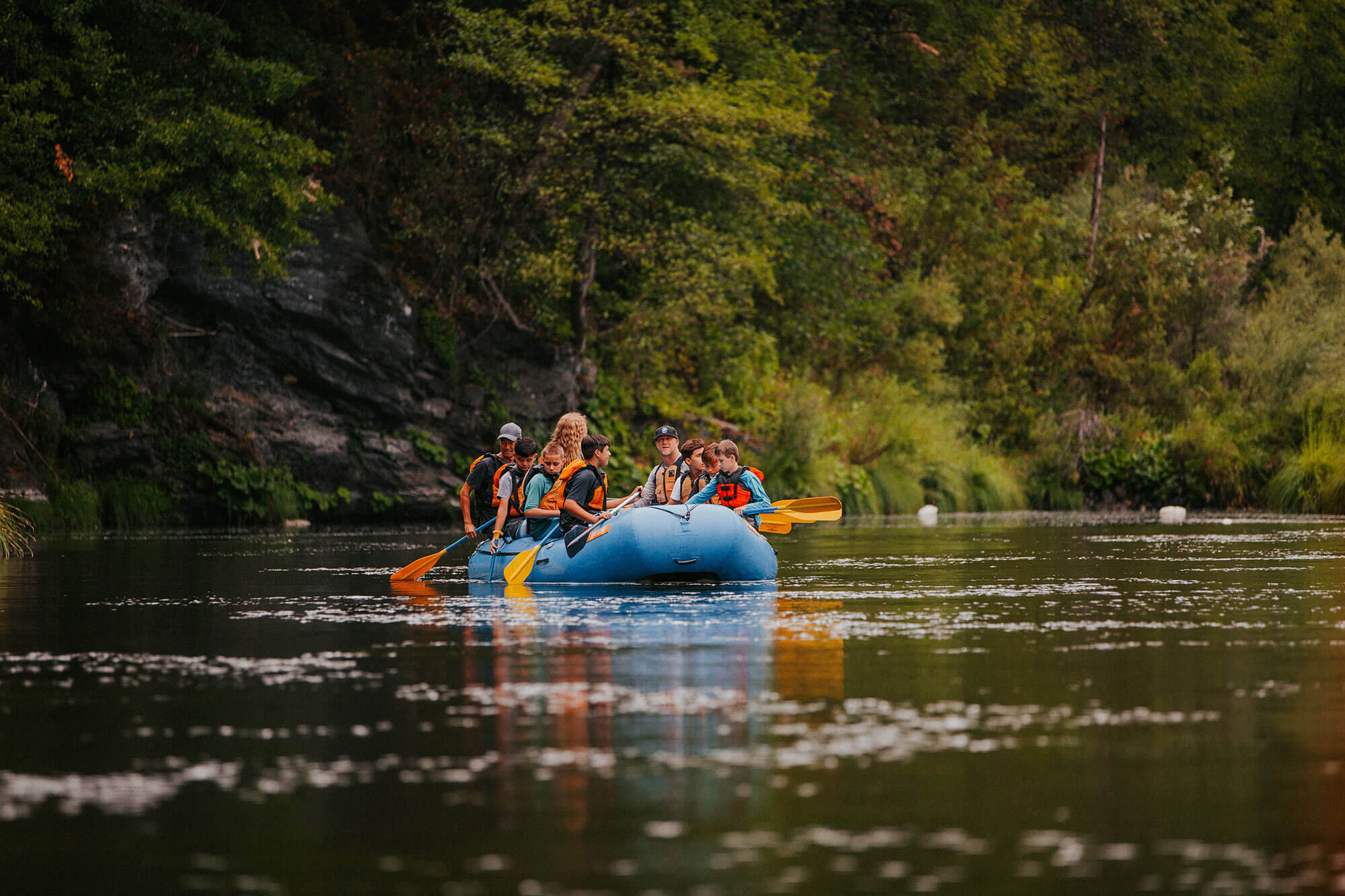 If you don't want to compromise on water levels during the summer months, it's a good idea to choose a dam-controlled river. There are several white water rivers in Scotland that are controlled by a dam release schedule. These enable you to enjoy the (somewhat) nicer weather without having to sacrifice the water levels.
Autumn
Autumn can be somewhat of a gamble for a naturally-fed river. The water levels might still be quite low at the tail end of Summer and the weather is likely to be cooler. The converse of that is that the cooler temperatures might have brought a little more rainfall and therefore the water might have come up to a nice, moderate level without the notably colder conditions of Winter. Scotland often provides some beautiful, Autumnal weather in September with bright blue skies and yellowing leaves which can result in a stunning white water adventure.
Winter
Winter weather often puts people off coming onto the river, threatening cold, wet, windy conditions. Whilst this can be the reality, this shift in the weather can offer some of the best white water conditions Scotland has to offer on its naturally fed rivers.
Rafting in winter is not for the faint of heart – big rapids and bouncy wave trains await for the more adventurous Scottish rafter. Extra layers of neoprene will definitely be required, hot drinks may be needed at the end but the smile on your face will make it all worthwhile.
Spring
Spring if often overlooked as a popular rafting season in Scotland. Everyone is looking forward to the promise of Summer and so a lot of people are inclined to wait for a few weeks or months to head off on an adventure. Spring can create exceptional conditions on a naturally fed river! Snow melt often hits the local water tables during Spring and this brings the water level up to a high level (and down to cold temperatures!). Spring weather in Scotland is usually very unpredictable so you can experience 4 seasons in one day but the river conditions can certainly make up for it.